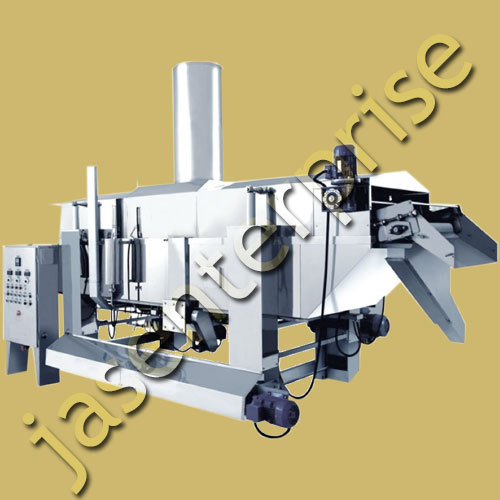 Continuous namkeen fryer
Product Code : 42
Product Description
Owing to our vast knowledge in this domain, we are able to manufacture and export best quality continuous namkeen fryer. Our well-trained professionals manufacture these fryers in our well-equipped infrastructure facility by making use of modern tools and machines. We manufacture these fryers keeping in mind the industry laid parameters, therefore using top quality stainless steel and other components. Owing to its high performance and longer service life, the continuous namkeen fryer is highly appreciated by our patrons.


Advance Features of Continuous fryer with heat exchanger:
Complete system consists of frying section with paddles and sub merger belt, top hood, takeout belt, continuous oil filter, day oil tank and heat exchanger.
Make up oil is continuously added to the fryer to maintain optimum level.
The flow of oil ensures a linear flow of oil, which is necessary in order to have a uniform frying time for all the slices.
The equipment is designed to have a low oil holding capacity (325 -350 liter) in order to achieve low oil turnover ratio.
Speed of both the belts can be varied by a variable frequency drive to adjust the frying time. Similarly flow of inlet oil can be regulated with valves.
The continuous oil filtration is carried out by a belt type filter, which keeps the frying oil clean and filtered particles are collected in a tray.
A stainless steel 304 made oil tank is placed with the fryer which can accommodate entire oil in the system.
After frying the namkeen, farsan are received by takeout belt.
Heat exchanger
Coil type seamless stainless steel tubes and mild steel shell instant response
Multi-layer insulation
Lightweight ceramic fiber insulation keeps casing temperatures low and does not deteriorate from age or thermal stress. Low residual heat capacity enhances temperature control and eliminates overheating of oil during unscheduled shutdowns.
Self-cleaning tubing
Completely self-draining, our all-welded stainless steel tube bundles stay clean of particle accumulations. Normal thermal expansion produces no stressing or buckling of the tubes, assuring years of reliable, trouble-free operation.
For cooling of oil a shell and tube heat exchanger will be provided along with fryer for better oil management.
The fryer comes with pneumatic auto lifting arrangement of conveying system for easy cleaning and maintenance.
Complete material of construction will be stainless steel 304.
Control panel
The electrical control panel houses all the starters, temperature controllers and variable frequency drives for operation of equipments.
Supply voltage: - 415 volts, 50 Hz, 4 wire
Specifications:
Belts: -Stainless steel 304
Paddle motor: - Geared motor with variable frequency drive, 0.5 HP
Sub merger motor: - Geared motor with variable frequency drive, 0.5 HP
Takeout motor: - Geared motor with variable frequency drive, 0.5 HP
Filter drive motor: - variable speed, 0.25 HP
Production Capacity 300-350 Kg/hr. (namkeen)
Fuel Consumption :- 11-13 litres/hour
Power Consumption :- 6.5 HP
Oil Holding Capacity :- 325 -350 litres
Please Note that Also available in 600kg/hr production capacity.
Frying System includes following Equipments
1. Frying System
2.An External Heat Exchanger
3.Oil Tank with Cooling System
4.Control Panel
5. Filter for fines removal