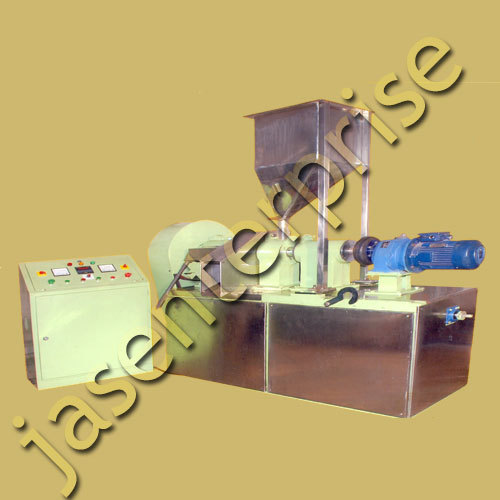 Product Description
With firm commitment to quality, we are offering superior grade Kurkure Production Line. We manufacture these machines in compliance with the industry laid parameters and the demands of our customers. These machines are precisely designed by our qualified engineers for making kurkure. High-grade components and raw materials are used in the manufacturing process to manufacture high performance and durable machines. The Kurkure Production Line is available in many capacities as per the requirements of our customers.
Other details:
All the Lines have following features:
Improved productivity with excellent product quality.
Very low labour requirement.
Excellent on line oil filtration.
High oil turn over ratio Indirect Heating Arrangement.
Fully autmatic kurkure production line
Production Capacity : 150 & 300 Kg/Hr Capable of integrated automatic production Kurkure from raw grit.
Kurkure are extruded snacks, very crunchy and great in taste. Kurkure are made by extrusion process. The kurkure corn meal is moisturized in the flour mixer with water and fed to the rotary die extruder. In the extruder, due to excess heat and pressure from the screws the meal gets heated and the moisture content gets reduced. The meal passes through the die and gets cut by the cutting knifes into required lengths. The kurkure are fried in cooking oil and then cooled before flavoring. Seasoning is sprayed on the kurkure to improve their taste.Machines involved in making kurkure:

1. Flour mixer with feeder - to mix corn meal with water to prepare the flour for kurkure and more mixture from mixer machine to rotary head extruder for kurkure type snacks.

2. Rotary head extruder for kurkure type snacks - to cook the corn meal and extrude the kurkure from the die. The rotary die twists and curls the meal before extruding giving a uniform texture.

3. Feeding elevator - this equipment is proved for transfer the corn curls from extruder to rotary sieve.

4. Rotary sieve - the fines or small particles that are produced as the collets are removed by this rotary sieve.

5. Continuous frying system with heat exchanger - to fry the kurkure in hot cooking oil. The uniform frying introduces the crunchy taste to the kurkure.

6. De-oiling belt - to remove exceed oil from corn curls.

7. Linear feeder - this devices used to feed corn curls for flavouring on seasoning system.

8. Automatic seasoning system with Slurry System - to add required seasoning to the fried and cooled kurkure to give the different flavours to them
Spacification of kurkure production line
Dimensions : 50 x 15 Ft
Fuel : Diesel, LPG or Natural Gas
Material of Construction : AISS-304 Grade Stainless Steel