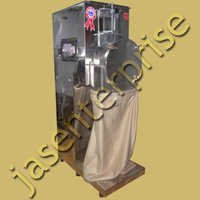 Pulses and Grains Grinding Pulverizer
Product Description
Pulses and Grains Grinding Pulverizer
Supported by a team of diligent and dexterous professionals, we are engaged in manufacturing and exporting sturdily built Grains Grinding Pulverizer. In order to attain complete customer satisfaction, this pulverizer is manufactured using superior quality raw materials and other components that are procured from certified vendors of the market. To rule out the possibility of any defect, this pulverizer is thoroughly checked on various parameters like seamless finish and high performance. This Grains Grinding Pulverizer is extensively used for grinding of grains and pulses.

Various attributes:

High performance

Rugged construction

Easy installation

High tensile strength
Other details:

Jas enterprise offer pulses and grains grinder, which grinds red chillies, black pepper, white pepper, cinnamon, cardamom, coriander, red pepper, oregano, basil, thyme, dill seed, shell corn, ginkgo, ginseng, cave, black cohosh, ginger root, yucca root, cassava root, and poultry feed et cetera it provided with a set of three numbers of perforated round holes screens it has also three meter cable with a plug top and fitted with ampere meter and miniature circuit breaker for overload protection for motor. Also equipped with beater are fully machined and balanced. It's feature includes dust free operation; does not waste product and cause no pollution hazards. Another feature of this mill is that effective and continuous crushing leads to increased production and faster return on investments.
Construction of pulses and grains grinder
Pulses and grains grinder is made from heavy duty mild steel fabricated body. Heavy duty iron body is covered with stainless steel sheet. Aluminum grinding chamber lined with serrated wear steel plates, which protects the body from wear and tear. Grinding done by a set of fixed blades or hammers on a balanced rotor. A screen classifier forms the lower half of the grinding chamber.
Typical application of pulses and grains grinder
The techno wings pulses and grains grinder can be used for a wide range of application e.g. Gram dal, udad dal, moth dal, moong dal, and many more... Rice, maize, jowar, durra, bajri, ragi, wheat grits, maize grits... and many more etc.
Technical specifications of pulses and grains grinder
| | | | |
| --- | --- | --- | --- |
| Model no | Jas 1302BL | Jas 1305BL | Jas 1310BL |
| Chamber size in mm | Ø 250 x 125 | Ø 300 x 150 | Ø 390 x 200 |
| Motor HP ( kW) | 2 ( 1.75 kW) | 5 (3.75 kW) | 10 (7.5 kW) |
| Grinding rotor RPM | 2880 | 2880 | 2880 |
| Size of machine | 36 x 50 x 93 cm 60 kilogram (approximate) | 68 x 40 x115 cm 88 kilogram (approximate) | 89 x 54 x 137 cm 200 kilogram (approximate) |
| Grinding capacity per hour | 35 to 40 kilogram | 85 to 90 kilogram | 175 to 200 kilogram |
| Feeding | Back top | Back top | Back top |