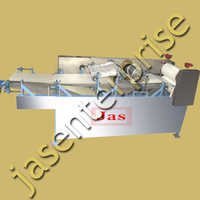 Raw Chapati Making Machine
Product Description
We have carved a niche in the industry by engaging ourselves in manufacturing and exporting robustly built Raw Chapati Making Machine. To provide best quality output to our esteemed clients, this machine is manufactured employing latest technology and sophisticated machinery. This machine is made available in various sizes and models as per the choices of clients. Post-production, this machine is thoroughly checked by a team of quality experts in order to rule out the possibility of any defect. Clients can avail this Raw Chapati Making Machine at most competitive price.

Various attributes:

Trouble free performance

Perfect finish

Robust construction

Optimum functionality
Other details:

Raw Chapati Making Machine
Automatic raw chapatti and puri making machine dough just needs to be fed into the hopper and at the outlet one gets raw chapati or puri. Apart from this no oil is required. Thus, these machines offer oil free, hygienic Chapatis at economical prices. This raw chapatti and puri making machine is presented with suitable silicon controlled rectifier rated direct current motor with base speed 300 to 3000 RPM electric motor with variable speed direct current drive which converts incoming single-phase alternating current volts to direct current volts. During this conversion process, DC drive regulates speed, torque, voltage and current conditions of the DC motor. One set of coated roll with thickness setting arrangement, flour sprinkling arrangement, and one number dies roll, endless PVC food grade belt is mounted on stainless steel covered fabricated angle stand. This machine is able to produce 1000 to 1200 Chapatis per hour or 1500 to 1800 puri per hour depends on the diameter of chapati and puri and required littlie space 98 inches length x 24 inches width x 43 inches height.
Flow Diagram chapati or phulka roti making
Dough Mixing(by Dough Kneader or Manual)

Dough Sheeting

Die Cutting
Operating System of Raw chapati Maker
Dough Mixer (Dough Kneading Machine)
This machine would consist of heavy-duty stainless steel body with multi-purpose arms. Heavy-duty gears are providing to take the full load and to avoid damage to the mixer arms. (Please note that this dough kneading machine is not standard part of raw chapati making machine)
Dough Sheeter
Dough sheeting machine consisting of a heavy- duty frame with gauging rollers driven by a motor with gearbox arrangement would be provided. The horizontal hopper would be of Stainless steel with proper taper. The dough is smooth formed from the hopper in the form of a sheet and feed to the gauging rollers. The distance between the gauging rollers would be adjustable and this would depend on the desired thickness of the roti, chapati or puri. The rollers would be coated (food-grade material). There would be an intermediate conveyor to feed the dough sheet to the rotary cutting unit. The conveyor belt would be of food-grade material.
Rotary Cutting Unit
A rotary cutting is would be fitted on a roller for smooth and accurate cutting Roti, chapatti as per the desired size. There would be a provision for shifting the generated Chapatti scrap back to the scrap collection tray.
Standard accessories of Raw chapati making machine
1 horsepower Silicon Controlled Rectifier rated D.C. motor with base speed 300 to 3000 Rpm electric motor along with variable speed DC drive which converts incoming three or single-phase AC volts to DC volts. During this conversion process DC drives then can regulate speed, torque, voltage and current conditions of the DC motor.

One number of die roll
Extra accessories of raw chapati making machine
Extra die roll if required.